The Urgency of Evangelism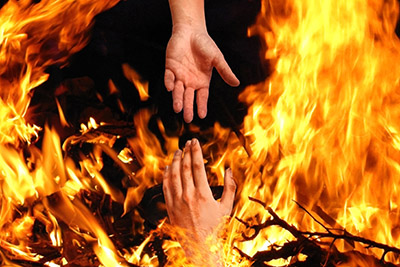 Pop quiz! What percentage of Christians actively share their faith with others? 2%, 9%, 33%, 72%? According to various research and surveys, the answer sadly is a mere 2%. What on earth are we still here for if we're saved? We can praise in Heaven, worship, talk with GOD, fellowship with each other, and much more. But one thing we won't be able to do is share the Gospel with the lost.  The Greek word for evangelism (εὐαγγέλιον) means good news, which of course is the Gospel of JESUS CHRIST! There are so many ideas and approaches to evangelism, and there is not necessarily only one way. However it is imperative that we stay true to the Biblical guidelines given, and also make sure we do have give a distorted or skewed version. Shortly we will look at how share your faith simply, effectively, and Biblically… the way the LORD JESUS did! To start off on the right foot, it's important to know what is GOD's will? Scripture tells us plainly: "The Lord is not slack concerning his promise, as some men count slackness; but is longsuffering to us-ward, not willing that any should perish, but that all should come to repentance." 2 Peter 3:9 "Even so it is not the will of your Father which is in heaven, that one of these little ones should perish." Matthew 18:14 DUTY OF ALL "If thou forbear to deliver them that are drawn unto death, and those that are ready to be slain; If thou sayest, Behold, we knew it not; doth not he that pondereth the heart consider it? and he that keepeth thy soul, doth not he know it? and shall not he render to every man according to his works?" Proverbs 24:11-12 Many Christians don't take responsibility and say it's the job of the pastors, prophets and evangelists to spread the Gospel. Often they use this verse to justify their thinking: "Let your light so shine before men, that they may see your good works, and glorify your Father which is in heaven." Matthew 5:16 Yes absolutely your witness is very important and really makes a difference. Your works can really open someone's heart and become open to hearing and accepting the truth, but this doesn't replace evangelism, it should be in addition to evangelism. By looking at you people won't automatically understand their sinfulness, the need for repentance and the work that CHRIST did on the Cross. JESUS gave an exhortation: "And he said unto them, Go ye into all the world, and preach the gospel to every creature." Mark 16:15 Again, this commandment wasn't only for the disciples, but for all Christians. Imagine if the disciples shared the Gospel but then those they shared with never told anyone ever again. Nobody past their generation would ever be born-again, including us! Furthermore the Word of GOD tells us: "But sanctify the Lord God in your hearts: and be ready always to give an answer to every man that asketh you a reason of the hope that is in you with meekness and fear:" 1 Peter 3:15 "The fruit of the righteous is a tree of life; and he that winneth souls is wise." Proverbs 11:30 "And that repentance and remission of sins should be preached in his name among all nations, beginning at Jerusalem." Luke 24:47 Apostle Paul shares: "For though I preach the gospel, I have nothing to glory of: for necessity is laid upon me; yea, woe is unto me, if I preach not the gospel!" 1 Corinthians 9:16 "Son of man, I have made thee a watchman unto the house of Israel: therefore hear the word at my mouth, and give them warning from me. When I say unto the wicked, Thou shalt surely die; and thou givest him not warning, nor speakest to warn the wicked from his wicked way, to save his life; the same wicked man shall die in his iniquity; but his blood will I require at thine hand. Yet if thou warn the wicked, and he turn not from his wickedness, nor from his wicked way, he shall die in his iniquity; but thou hast delivered thy soul. Again, When a righteous man doth turn from his righteousness, and commit iniquity, and I lay a stumblingblock before him, he shall die: because thou hast not given him warning, he shall die in his sin, and his righteousness which he hath done shall not be remembered; but his blood will I require at thine hand. Nevertheless if thou warn the righteous man, that the righteous sin not, and he doth not sin, he shall surely live, because he is warned; also thou hast delivered thy soul." Ezekiel 3:17-21 The LORD JESUS gives also a strong exhortation: "Whosoever therefore shall confess me before men, him will I confess also before my Father which is in heaven. But whosoever shall deny me before men, him will I also deny before my Father which is in heaven." Matthew 10:32-33 REMEMBER WHERE YOU CAME FROM Some of us have been Christians so long that forgot we were unbelievers once too, full of sin, and some very stubborn ones! The LORD JESUS CHRIST urges us: "Remember therefore from whence thou art fallen, and repent, and do the first works; or else I will come unto thee quickly, and will remove thy candlestick out of his place, except thou repent." Revelation 2:5  We need to remember that GOD had mercy on us and was very patient. How many came to CHRIST in their 30's 40's, 50's and beyond? COMFORT ZONE & BURDEN Sharing the Gospel can be challenging, uncomfortable, confrontational and even inconvenient, but have to do our duty! "And others save with fear, pulling them out of the fire; hating even the garment spotted by the flesh." Jude 1:23 "And they that be wise shall shine as the brightness of the firmament; and they that turn many to righteousness as the stars for ever and ever." Daniel 12:3 It's not pleasant telling people they have done wrong and aren't right with GOD, but hear the words of CHRIST to every CHRIST follower: "Then said Jesus unto his disciples, If any man will come after me, let him deny himself, and take up his cross, and follow me." Matthew 16:24 "And he that taketh not his cross, and followeth after me, is not worthy of me." Matthew 10:38 SAVED FROM WHAT? Here's what most neglect to include while Evangelizing, yet JESUS preached about Hell twice as often as He did about Heaven. No matter how much an unbeliever is enjoying their life and their sin, without righteousness (right standing with GOD) they will perish on the day of judgment.  According to the Bible: Hell is a place of eternal, conscious torment (Luke 16:23) Where "the worm dies not, and the fire is not quenched" (Mark 9:44, 46, 48) There is "weeping and gnashing of teeth" (Matthew 22:13, 24:51, 25:30) It is "everlasting punishment" (Matthew 25:46), with "shame, everlasting contempt" (Daniel 12:2) "eternal fire, and blackness of darkness for ever" (Jude 1:13) There is a saying, "Eternity is a long time to be wrong." It is highly recommended to search and watch the powerful testimony of Bill Weise – 23 Minutes In Hell. His life transformation, newly formed urgency for evangelism and backing up with Scripture makes this testimony one of the most compelling. The Word of GOD warns again and again: "And as it is appointed unto men once to die, but after this the judgment:" Hebrews 9:27 "He that believeth on the Son hath everlasting life: and he that believeth not the Son shall not see life; but the wrath of God abideth on him." John 3:36 JESUS again warned of "wrath to come" in Luke 3:7, Apostle Paul said that "sinners are storing up wrath for the day of wrath and revelation of the righteous judgment of God." Romans 2:5 And some more powerful preaching from the LORD JESUS: "The Son of man shall send forth his angels, and they shall gather out of his kingdom all things that offend, and them which do iniquity; And shall cast them into a furnace of fire: there shall be wailing and gnashing of teeth." Matthew 13:41-42 2 Corinthians 5:11 says, "Knowing therefore the terror of the LORD, we persuade men." And Hebrews 10:31 adds, "[It is] a fearful thing to fall into the hands of the living GOD." WATERED-DOWN & SUGAR-COATED A.W. Tozer, a Biblical teacher once said: "The vague and feeble hope that GOD is too kind to punish the ungodly has become a deadly drug for the consciences of millions. It hushes their fears and allows them to practice all pleasant forms of iniquity while death draws every day nearer and the command to repent goes unregarded." Today's watered-down, sugar-coated, life enhancement gospel says: "Come to GOD for a better life. You'll find happiness, joy, all sadness will go away and every problem will be fixed." When encountering certain people especially who have suffered in life, it's very tempting and feels so natural to only want to preach the "pleasant" parts of the Bible, "GOD loves you, cares for you", while neglecting the full Gospel. GOD's promises are amazing and we don't take them lightly, and it's certainly okay to encourage someone especially if they have heard the Gospel before. But be careful because the promises of GOD aren't for unbelievers, and we're at risk of telling a well meaning but absolute lie.  There is a story of a believer who was speaking to an old time friend over the phone. This friend was again and again disappointed about life and sharing with real heart ache. The believer felt very sorry for the friend and felt compelled to tell them of GOD's love. Yet as the believer was about to speak, it was perhaps the LORD who brought a quick correction to their thoughts. Instead, with humility and love they shared that the root of the issue is that we are all sinners (including the friend), and we are not right before GOD, we're in big trouble on judgment day, and we desperately need the one and only savior JESUS CHRIST.  Do you know what happened? The friend on the phone began to cry, and say thank you for loving me, caring for me by telling me the truth. The next day the friend wrote the believer and again thanked the believer for what they shared. Amazing! The devil often discourages us from sharing the whole truth, making us think that it won't be received for whatever reason. Although this can be the case sometimes, it doesn't matter and shouldn't affect our obligation to evangelize. Sadly, in hopes of reaching people for CHRIST many well meaning Christians are presenting a GOD that people will like (merciful, kind, loving), and ignoring His other equally real attributes (holiness, jealousy, perfect justice and wrath on sin and evil).  Presenting CHRIST without showing their SIN is like presenting the CURE without the DISEASE. The good news (Gospel) isn't good news until you tell them the bad news;

s

in, judgment, eternal hell. Most importantly we must never make the sinner think they are fine the way they are, and this can even be done indirectly by NOT telling them the truth!  "He that saith unto the wicked, Thou art righteous; him shall the people curse, nations shall abhor him: But to them that rebuke him shall be delight, and a good blessing shall come upon them." Proverbs 24:24-25 Furthermore, those who justify the wicked are an abomination to the LORD (Proverbs 17:15). FALSE CONVERTS One study found that for every 100 decisions for CHRIST, nearly 90 of them fall away (backslide). Only about 10% remain. The false promise of the "non-offensive" life enhancement gospel that many preach (knowingly or unknowingly) creates disillusioned, disappointed, offended Christians. A little persecution, unanswered prayer or something bad happens and they dump GOD. They'll think "This isn't what I signed up for." Now worse off than before thinking they're saved Christians and living just like the rest of the world, or claiming to have "tried" Christianity and simply didn't work for them. Again, we don't dare to disclaim the wonderful promises of GOD, yet it's not the true Gospel. JESUS promised there will be persecution and hatred towards Christians for His Name's sake (Luke 21).  Listen to what our precious brothers and sisters in CHRIST before us suffered: "And others had trial of cruel mockings and scourgings, yea, moreover of bonds and imprisonment: They were stoned, they were sawn asunder, were tempted, were slain with the sword: they wandered about in sheepskins and goatskins; being destitute, afflicted, tormented; (Of whom the world was not worthy:) they wandered in deserts, and in mountains, and in dens and caves of the earth." Hebrews 11:36-38 TWO EXTREMES OF PREACHING THE GOSPEL 1. Watered down life enhancement: "GOD loves you, wants a better life for you, just believe, just pray a prayer and you're set for life."  Creating yet another false convert of which the world is full of. 2. Hell fire preaching: "You're going to hell, repent now!" Not explaining the reason and what CHRIST did, creating apathy and hatred towards GOD and Christians. USING THE LAW A.B Earl – a famous evangelist with over 150,000 converts said, "People must see themselves lost before they cry for mercy, for they will not escape danger until they see it." Most born-again believers have tossed the law away (especially Charismatic/Pentecostals), but this is what's missing in evangelism. We're not saved or made righteous by the law, but exactly the opposite. The law is a mirror, showing us how filthy we are, that we're sinners before the Holy GOD! "The law of the LORD [is] perfect, converting the soul: the testimony of the LORD [is] sure, making wise the simple. The statutes of the LORD [are] right, rejoicing the heart: the Commandment of the LORD [is] pure, enlightening the eyes." Psalm 19:7-8 Imagine I come up to you and say, "Hey by the way I paid your €25,000 fine, you're welcome". You would say, "what are you talking about what fine?" And I reply, "I love you so much I paid your fine." You would at this point be confused and probably irritated wouldn't you? But what if I told you, "friend, let me show you the evidence that you violated multiple traffic laws within the past few years. Here is the written law of what you are allowed and not allowed, here is the ticket and also the photo evidence of you driving your car through a red light and also speeding." Then I would show you the €25,000 ticket fine which must be paid plus the jail time if the fine is not paid in time!  You would be in shock but hopefully be awakened to the seriousness of the violations you have done. What if THEN I said, "I paid your fine and your case is dismissed"? You would appreciate what I did because you realize the big trouble you were in, and accept the payment given on your behalf. "What shall we say then? Is the law sin? God forbid. Nay, I had not known sin, but by the law: for I had not known lust, except the law had said, Thou shalt not covet." Romans 7:7 "Knowing this, that the law is not made for a righteous man, but for the lawless and disobedient, for the ungodly and for sinners, for unholy and profane, for murderers of fathers and murderers of mothers, for manslayers." 1 Timothy 1:9 1 Timothy 1:8 says, "But we know that the law is good, if a man use it lawfully…" John Wesley said, "Preach 90% law, 10% grace."  GETTING TO THE CONSCIENCE "There is a generation that are pure in their own eyes, and yet is not washed from their filthiness." Proverbs 30:12 We must prepare a self-righteous/proud persons heart before they receive the grace of the Gospel. Let's say I'm a doctor. My patient has a terminal disease and I have the cure. I would sit them down and say, I have serious news, you have a terminal disease. I bring out x-rays, I tell them about the truth about the disease, what it's doing, how it's destroying them, and the end result being death. My patient would tremble in fear. Then I tell them, I have the cure. They would say, give it to me now!  A person's knowledge of this horrible disease and its consequences make them appreciate the cure. Preaching grace without preaching that they have transgressed the law, is like preaching the cure without first convincing people of their disease.  Rather than trying to reason with their mind, use the law of GOD to reach their conscience: "Because the carnal mind [is] enmity against GOD: for it is not subject to the law of GOD, neither indeed can be." Romans 8:7 "Which shew the work of the law written in their hearts, their conscience also bearing witness, and [their] thoughts the mean while accusing or else excusing one another." Romans 2:15 "Now we know that what things soever the law saith, it saith to them who are under the law: that every mouth may be stopped, and all the world may become guilty before GOD." Romans 3:19 NOT SAVED BY LAW OR "GOOD" WORKS While most claim to be good because of attempting to keep the law, the truth is they have already broken that very law (countless times) which they are trying to keep to gain salvation or righteousness. It's like a guilty criminal in court with clear evidence against him trying to show the judge all the good stuff they have done too. It doesn't matter and this type of reasoning really doesn't make sense if you think about it. "But we are all as an unclean [thing], and all our righteousnesses [are] as filthy rags; and we all do fade as a leaf; and our iniquities, like the wind, have taken us away." Isaiah 64:6 "Therefore by the deeds of the law there shall no flesh be justified in his sight: for by the law [is] the knowledge of sin."  Romans 3:20 "Whosoever committeth sin transgresseth also the law: for sin is the transgression of the law." 1 John 3:4 "For whosoever shall keep the whole law, and yet offend in one point, he is guilty of all." James 2:10 THE BIBLICAL GOSPEL JESUS brought people face to face with their sin and made them realize there is none good. His first preaching is seen in Matthew 4:17, "Repent: for the kingdom of heaven is at hand." And see examples of sin confrontation such as the rich young man (Matthew 19) and Samaritan woman (John 4). Everybody thinks they're a good person (Proverbs 20:6), that they can easily earn their way into GOD's Kingdom (Romans 10:3), especially in religious countries. But a just Judge (GOD) cannot be swayed or bribed by "good" works (Isaiah 64:6). We must compel the lost to transfer their trust from themselves (self-righteousness) to the Savior! IMPORTANT KEY Even if one preaches the proper Biblical Gospel, it can still be done in condescending hateful or aggressive way. The Scripture once again tells us the key:" But sanctify the Lord God in your hearts: and be ready always to give an answer to every man that asketh you a reason of the hope that is in you with meekness and fear." 1 Peter 3:15 "Let your speech be alway with grace, seasoned with salt, that ye may know how ye ought to answer every man." Colossians 4:6 We're not better than anyone else, we're only saved because of GOD's grace, and have absolutely nothing of ourselves to boast (Ephesians 2:9). Christians are like cancer survivors (spiritual cancer) telling other cancer patients how to get the cure! If you'd like to see real evangelism encounters visit Living Waters, a wondering ministry dedicated to the training and equipping of believers to sharing their faith. Be trained and encouraged! YOUR WITNESS As we said initially your witness can really open a person's heart and receptiveness to your words. JESUS said in Matthew 5:16,"Let your light so shine before men, that they may see your good works, and glorify your Father who is in heaven." And Apostle Peter added, "It is GOD's will that "with well doing you may put to silence the ignorance of foolish men." 1 Peter 2:15 QUICK GUIDELINES – You sway the conversation towards GOD, don't wait for them! JESUS did this perfectly. – Ask about their faith background. People love to talk about themselves. "Follow me, and I will make you fishers of men." (Matthew 4:19) Fish don't jump into boat, you have to go get them. – Stay on track and try not to be taken off path with strange tales or off the topic questions (1 Timothy 1:4) – We're aiming to get to the conscience (Romans 2:15) which GOD put there, not fancy words or philosophy (1 Corinthians 2:1). Praying they will be pricked in their heart & ask what must we do? (See Acts 2:37 where 3000 were told to repent and did so).  WDJD – 4 STEPS TO EVANGELISM (Way of the Mater – Living Waters) Would you consider yourself a "good person"

Almost everyone will say yes!

Do you think you have kept the 10 commandments? Ever lied, stolen, used the name of LORD in vain (very serious), looked lust (which JESUS said adultery). Most will admit to most of it even if they are hesitant at first. Judgment By your own admission you are a liar, thief, blasphemer and adulterer at heart. Will you be innocent or guilty if judged by the 10 commandments on judgment day? Most will say guilty. If not then bring up the analogy of a just judge who cannot over look crimes despite how often they were, how long ago, or how many good things were done since. "Know ye not that the unrighteous shall not inherit the kingdom of God? Be not deceived: neither fornicators, nor idolaters, nor adulterers, nor effeminate, nor abusers of themselves with mankind, Nor thieves, nor covetous, nor drunkards, nor revilers, nor extortioners, shall inherit the kingdom of God." 1 Corinthians 6:9-10 Destination If given justice, is it Heaven or Hell for you? Does that concern you? It should, I'm concerned for you. "But the fearful, and unbelieving, and the abominable, and murderers, and whoremongers, and sorcerers, and idolaters, and all liars, shall have their part in the lake which burneth with fire and brimstone: which is the second death." Revelation 21:8 Do you know what GOD did for you so that you don't face judgment? Share the Gospel! We have to present GOD as He really is, not just loving, but also Holy, Righteous, Perfect and Just. Take your time before presenting the Gospel, and take your time presenting it as well (The Cross, The Blood, CHRIST taking our sins upon Himself. We broke GOD's law, CHRIST paid our fine). Compel them that they may not have the promise of tomorrow, and should seriously think about this and take action today! At the same time don't force them to just say a prayer or do it unwillingly. Also encourage them to read their Bible (most have one even if it's full of dust) and join a Bible believing Church where they can grow. 2 THINGS YOU MUST DO TO BE SAVED 1. Repent! "Repent ye, and believe the gospel" (Mark 1:15) Don't just confess sins but forsake them. "He that covereth his sins shall not prosper: but whoso confesseth and forsaketh them shall have mercy." Proverbs 28:13  2. Put your faith & trust in the LORD JESUS! (John 3:16) Includes making Him your new LORD (Philippians 2:10)(Mark 12:30) and no longer trusting in your own righteousness for salvation. (Romans 10:3) Many believe in GOD and what CHRIST did, but haven't applied it neither repented: "Thou believest that there is one God; thou doest well: the devils also believe, and tremble." James 2:19 On an airplane that's falling, you don't just believe in the parachute under the seat, but you would put it on! "But put ye on the Lord Jesus Christ, and make not provision for the flesh, to fulfil the lusts thereof." Romans 13:14 A helpful summary of the flow of conversation Relate – start talking in the natural (ask about their work, family, etc.) Create – swing the conversation towards GOD, (use a gospel tract / do you have a Christian background) Convict – take them through the commandments Reveal – when humbled, give them the good news of the Gospel! LAW TO THE PROUD, GRACE TO THE HUMBLE While we would all with great joy love to see every person evangelized come to CHRIST, NEVER force anyone to just say a prayer if you don't see genuine repentance. You'll be doing a huge disservice to them and to GOD, making them THINK they are now Christians and will be worse off than before. Biblical evangelism always without exception should be – Law to the proud and grace to the humble "…GOD resists the proud, but gives grace to the humble." James 4:6b When a person understands the horrific consequences of violating GOD's law, they will run to the Savior! SINNERS PRAYER What about the sinner's prayer that's so often used and even seen in Gospel tracts? The interesting thing is that although there are wonderful examples of repentance, there no particular pattern to follow found in the Bible. King David was confronted by the prophet Nathan about his sins and thereafter experienced genuine repentance. We see his from-the-heart spontaneous prayer in Psalms 51. While there perhaps could be a situation where a person is really lost for words and you can give them a general example of what could be said, consider this: Imagine a husband was unfaithful to his wife with another woman. The husband tells you, come with me and help me talk to my wife and ask her forgiveness. You being joyful that he has come to his senses and willing to help you go. Then as you and the husband stand before the wife he says he doesn't know what to say. So you then say repeat after me, "Dear wife", the husband repeats. "Please forgive me", the husband repeats again. "What I did was wrong, please take me back", husband repeats… It seems ridiculous in this context doesn't it? The fact is that a person who has been convicted of their sin by the Gospel and HOLY SPIRIT (John 16:8) will show genuine repentance, whether it's a few words and many tears, or many words and a few tears. "For godly sorrow worketh repentance to salvation not to be repented of: but the sorrow of the world worketh death." 2 Corinthians 7:10 TUNE-UP REQUIRED It's hard to evangelize if you yourself are not well spiritually, or need a tune up. We need the HOLY SPIRIT to help us do the work of GOD! And how can we speak lovingly AGAINST sin if we ourselves are IN sin? "I am the vine, ye are the branches: He that abideth in me, and I in him, the same bringeth forth much fruit: for without me ye can do nothing". John 15:5 "But ye shall receive power, after that the Holy Ghost is come upon you: and ye shall be witnesses unto me both in Jerusalem, and in all Judaea, and in Samaria, and unto the uttermost part of the earth." Acts 1:8 In fact although JESUS gave the great commission of evangelism to His disciples, he also told them not to go out into the city until the HOLY GHOST came and filled them (Acts 1:4). A Christian once said that Evangelizing without the help of the HOLY SPIRIT is about as easy and rewarding as pushing a car with no engine up the hill. But with the Holy Ghost it's like a thrilling ride! HELPFUL ANALOGIES If the person you are witnessing to seems to be having trouble understanding a spiritual truth, you may find these analogies helpful. You Don't Just "Believe" in a Parachute A churchgoer may need help understanding the difference between just "believing in JESUS" and being "born again." If you and I were on an airplane and we knew we were about to crash, and I had my parachute on and you didn't, what is the most loving thing I could do for you? I would be to tell you to put on your parachute! If you told me you already believed in the parachute under your seat, but you didn't put it on, I'd plead with you to strap it on right away – because I know what will happen to you if you jump without the parachute. Simply believing in a parachute will not help you; you must put it on for it to do you any good. That's what the Bible says you must do with JESUS. It's not enough to simply "believe" in JESUS (even the demons "believe" and tremble); you must 'put on the LORD JESUS CHRIST' in order to be saved. You do that by repenting and placing your trust in JESUS as LORD and Savior. It's called being born again." John 3:3 The Good Judge A person may say that although he or she has sinned against GOD, they will go to heaven anyway. This is usually because he thinks that GOD is "good", and that He will therefore overlook sin in his case. Point out that if a judge in a criminal case has a guilty murderer standing before him, the judge if he is a good man, can't just let him go. He must ensure that the guilty man is punished. If the judge just let him go, he'd be a corrupt judge and should himself be brought to justice. If he's a good judge, he will do everything in his power to see that justice is served. Likewise, if GOD is good, He must (by nature) punish murderers, rapists, thieves, liars, adulterers, fornicators, and those who have lived in rebellion to His Law and to the inner light that GOD has given to every man. But GOD is also rich in mercy, not wanting anyone to perish. He demonstrated His love for us on the cross. Tell the person, "we broke GOD's Law and JESUS paid the fine. If you will repent and trust in the Savior, GOD will forgive your sins and dismiss your case." The Value of a Soul If the person you are witnessing to doesn't seem to understand the seriousness of immediately getting right before GOD, try this: Would you sell one of your eyes for a million Euros? What about both of them for 10 million? Of course you wouldn't – no one in his right mind would – because your eyes are precious to you. If you think about it, your eyes are merely the windows of your soul (your life). Your life "looks" out of your eyes. If your eyes are precious to you, how much more should you value your life? JESUS said, "If your eye causes you to sin, pluck it out. It is better for you to enter the Kingdom of GOD with one eye, rather than having two eyes, to be cast into hell fire." Mark 9:47 JESUS also said, "What will it profit a man if he gains the whole world, and loses his own soul?" Mark 8:36. There is nothing more important than your own soul and where you will spend eternity. Don't take a chance with your soul. One second after you die, it's too late. You can't turn back. Computer Chip Often, people become awakened (aware of their sin), but not alarmed. In other words, they understand they have broken GOD's Law, but it seems that they don't care. Your goal is to see them alarmed, because they should be – they are in great danger. This line of reasoning can help: Let's imagine that a computer chip has been placed behind your ear, and it records everything that runs through your mind for a whole week: every secret thought, every deed, and every word that comes out of your mouth. Then all of your friends, family, neighbors, police and judges are called together and all of your thoughts are displayed on a big screen for them to see. How would that make you feel? Do you think they would see you as a good person? Would you win an award? Would you be embarrassed? Ashamed? That is just what will happen on that day when GOD requires you to give an account for everything you've said and done for your whole life. All of your secret thoughts will be laid before Him. If you sin just 5 times a day, that is 1825 sins a year. If you live to be 70 years old, that is over 127,000 sins in your lifetime. You will have to give account to GOD for every sin on Judgment day. "For his eyes [are] upon the ways of man, and he seeth all his goings. There is] no darkness, nor shadow of death, where the workers of iniquity may hide themselves." Job 34:21-22 RESPONSES TO COMMON ARGUMENTS Being prepared for some common arguments will help you feel more confident as you witness. "How do you know GOD exists?" When you see a painting how do you know it wasn't made by a painter? Or seeing a building, know it was made by a builder. Even the simplest object like a coca cola can with clear design and purpose behind it could not have come from nothing. When we see creation we know that GOD made it. We also have a conscience to tell us from right and wrong. Do you believe in the afterlife? What do you think it's like? Where do you think you're going? "GOD is unreasonable, hateful and mean for sending people to hell" (By Bill Wiese) Let's say you found the most expensive home in the country, and you knocked on the door and said, l'm moving in with you because I'm a good person. What would they say to you? They would say I don't know you. You wouldn't expect them to let you in would you? Yet people go through their whole lives ignoring GOD, denying that JESUS is the Son of GOD and  have nothing to do with him. Yet at end of their life demand He lets them into heaven, and GOD will say "I never knew you, depart from me, ye that work iniquity." Matthew 7:23 He is your Creator but not your Father until you become born-again in CHRIST JESUS and you come to GOD. Then he adopts you into HIS family. JESUS said that nobody comes to the father but through HIM (John 14:6). GOD lives in unapproachable light (1 Timothy 6:16), His holiness and purity is greater than words can say. Sin and darkness cannot be in His presence. If people choose to be sinful and hold onto their sins it's their choice. Hebrews 12:29 says, "Our GOD is a consuming fire." If you stick your hand in the fire, your hand would burn. You can't get mad at the fire saying, it was mean of the fire to hurt me. The nature of the fire is to burn. GOD's nature is to consume sin. Your hand and fire are not compatible. GOD and sin are not compatible. We would be consumed before His presence as we are. The only way we would be to stand before Him is as if we never sinned. If a perfect man came and never sinned, and stood before GOD. Saying, I exchange my righteousness for theirs, If they trust in me instead of themselves and their good works, I will take their sin and wash it away with my Blood.  Now we can stand there as if we never sinned because the love and sacrifice of JESUS CHRIST. GOD isn't sending people to hell deciding, this one goes to hell this doesn't. We are ALL on the way to hell. We choose hell by rejecting the provision for our sin, JESUS CHRIST. But GOD is willing to pull us off the wrong road if we look up to the Cross and say, forgive me I've sinned! We have to agree not to want to sin anymore. Christians are narrow-minded, you think you're the only ones who are right. (By Bill Wiese) Let's say you invite me over for dinner to your house. I've never been to your house so you give me directions. You tell me go north on the A6 highway, turn left on Leoforos street, then take your first right. It's the only way to get to your house. But I say, I think I'll take this B6 instead, and then turn right instead of left because I think all roads lead to your house. You will say to me, you won't get to my house that way.  GOD gives us clear directions to his house, he knows where he lives. All we have to do is follow his directions and we'll get there. If we don't we are choosing to go to hell. That's not narrow-minded, it's specific! People should stop complaining that there is only one way, and instead be extremely grateful that there IS a way. "I don't believe in hell." If an individual claims not to believe in hell, gently respond, "That doesn't matter. You still have to face GOD on Judgment Day whether you believe in it or not. If I step onto the freeway when a massive truck is heading toward me and I say, 'I don't believe in trucks,' my lack of belief isn't going to change reality." "I just hope GOD is forgiving." Someone who acknowledges his sins but is relying on GOD's forgiveness could be referred to as "awakened, but not alarmed." Explain that GOD is forgiving – but only to those who repent of their sins and forsake them. Ask him, "if you died right now, where would you go?" if he says, "Hell", ask if that concerns him. If it does concern him, ask "What are you going to do?" Then tell him that GOD commands him to repent and trust the Savior. If it doesn't concern him, speak of the value of his life, the threat of eternal damnation, and the Biblical description of hell. Caution him that he doesn't have the promise of tomorrow, and plead with him to come to his senses. "You are trying to make me feel guilty by quoting the Ten Commandments." Ask the person which one of the Ten Commandments makes him feel guilty. Simply state, "The Bible simply says, 'you shall not steal.' If you feel guilty when you hear it, why do you think that is. Could it be because you're guilty?" GOD gave us our conscience so we would know when we break His Law; the guilt we feel when we do something wrong tells us that we need to repent. TAKE HEART Many Christians are demotivated because they haven't seen fruit from evangelizing, or feel they even hindered someone by not saying the right thing, or perhaps could have said something more.  The truth is some people have heard the entire Gospel time and time again, and yet haven't come to CHRIST. We're not the Savior, JESUS CHRIST is! People rejected the preaching of the prophets, apostles and even JESUS Himself. 1 Corinthians 3:7 wonderfully says, "One plants, another waters; but God that gives the increase." Of course we would love to see every person drop to their knees in tears and receive CHRIST, but we can't force what's not there. John 12:32 says that GOD will draw all men unto Himself. PRAY Pray for the lost, family, friends and even those you don't know. Pray for those who you evangelized or given tracts to. We have to realize this is spiritual warfare (2 Corinthians 2:10), and there are also deceiving and blinding blinding spirits (Ephesians 2:2). Consider also these 4 types of hearts CHRIST referred to: 1. Matthew 13:19 – "When any one heareth the word of the kingdom, and understandeth it not, then cometh the wicked one, and catcheth away that which was sown in his heart. This is he which received seed by the way side." 2. Matthew 13:20-21 – "But he that received the seed into stony places, the same is he that heareth the word, and anon with joy receiveth it; Matt 13:21 Yet hath he not root in himself, but dureth for a while: for when tribulation or persecution ariseth because of the word, by and by he is

offended

." 3. Matthew 13:22 – "He also that received seed among the thorns is he that heareth the word; and the care of this world, and the deceitfulness of riches, choke the word, and he becometh

unfruitful

." 4. Matthew 13:23 – "But he that received seed into the good ground is he that heareth the word, and understandeth it; which also beareth fruit, and bringeth forth, some an hundredfold, some sixty, some thirty." GOSPEL  TRACTS Gospel tracts can be a powerful tool in evangelism. While you don't always have the opportunity to talk to every single person you encounter throughout the day, leaving them with a well written Biblical tract can bring the person to the truth in the privacy of their own home or whenever they may read it. Here are just a few encouraging stories:
James Hudson Taylor received a tract at the age of 16. He was later one of the pioneers who took the Gospel to Asia after he was saved through a tract.
18-year old Thomas Bach furiously ripped up a tract he received. Later he put it together at home, falling on his knees before he even finished reading it. He became the leader of Evangelical Alliance with hundreds of workers.
A wife continually left tracts to her Jewish husband, he read it and disagreed but was faced with the truth. Eventually he was born-again and became the founder of a worldwide ministry called Jews for JESUS.
Most may not receive the Gospel tract openly at first, but when they go to their home in quietness and without any confrontation, we trust the HOLY SPIRIT to work in their hearts. Always have a tract with you (car, purse, pocket, etc), and be equipped with this powerful tool of evangelism! THE URGENCY It's easy to become narrow viewed and distracted during our time here on earth and take our focus off eternity, even forgetting that so many are perishing around us. While we hope that every person has years and decades to repent and turn to CHRIST for salvation, sadly many don't have the promise of tomorrow despite their gender, race, health or age. "Whereas ye know not what shall be on the morrow. For what is your life? It is even a vapour, that appeareth for a little time, and then vanisheth away." James 4:14 Visit http://www.worldometers.info and take a moment to watch the death counter. It is an unpleasant yet sobering reality that nearly 2 people die every single second of every day. That's over 100 a minute, 6,000+ an hour, 150,000+ daily, and an astonishing 55 million per year! You'll also notice on the same website about twice as many births than deaths. This is a new soul which you, your children, or someone else you shared the Gospel with will get to share with too. Ending in the wonderful words of the LORD JESUS CHRIST, be encouraged: "And Jesus came and spake unto them, saying, All power is given unto me in heaven and in earth. Go ye therefore, and teach all nations, baptizing them in the name of the Father, and of the Son, and of the Holy Ghost: Teaching them to observe all things whatsoever I have commanded you: and, lo, I am with you alway, even unto the end of the world. Amen." Matthew 28:18-20 ONLINE RESOURCES Biblical Creation Science http://creationtoday.org – Eric Hovind https://answersingenesis.org – Ken Ham Evangelism Training & Equipping www.livingwaters.com, www.wayofthemaster.com – Ray Comfort, Mark Spence, Kirk Cameron Credit: Some guidelines, sayings and verses adopted from Way of the Master (Living Waters) All scriptures taken from the King James Bible (KJV) Capitalization/underlining emphasis by writer.